HP Quality Center Team Progress Report

The Team Progress report is a broad-application view at product quality during an ongoing regression cycle. A combination of bug tracking and test case execution allows a surprisingly in-depth understanding of your product's quality, current release risk and team member effort, all in an easily analyzed package.
Whether it's true or not, the stereotype of "the favorite child" seems to stick around. It implies that, no matter how awesome your offspring are, one of them will inevitably appeal to you the most. It's the same with reports for us here; every single one of them is special, fills a very particular niche, and does the intended job very well, but the Team Progress report just happens to be near-and-dear to all of our hearts.
What's so great about it? To start, this is a report that can be used by every single product team, whether development, support, QA, or something else. If you file or fix product bugs, execute test cases, or use the output of these to determine short- and long-term direct of the product release, this report has something that will appeal. Also, this report makes for one of the best integrated dashboards for day-to-day status. You want high-severity product issues found over the last 24 hours listed for all to see? We can do that. You need multiple teams across different geographies tracked in separate bundles or combined into a single output? Done. You want everything wrapped up with a good-looking graphic? We can do that. You want to track your team's progress over days, weeks, months or more? This is the report for you.
In our experience this report is so popular, you'll soon be getting requests from other groups in your company for this data. Bring a print-out to an executive meeting and pretty soon other managers will want to see their teams' progress with clarity, efficiency, and flexibility. Go ahead and share – this sort of thing is far too good to be kept to yourself for long!
The Team Progress report is included in our Free HP Quality Center Report pack. Review the report detailed description and full-size screenshot.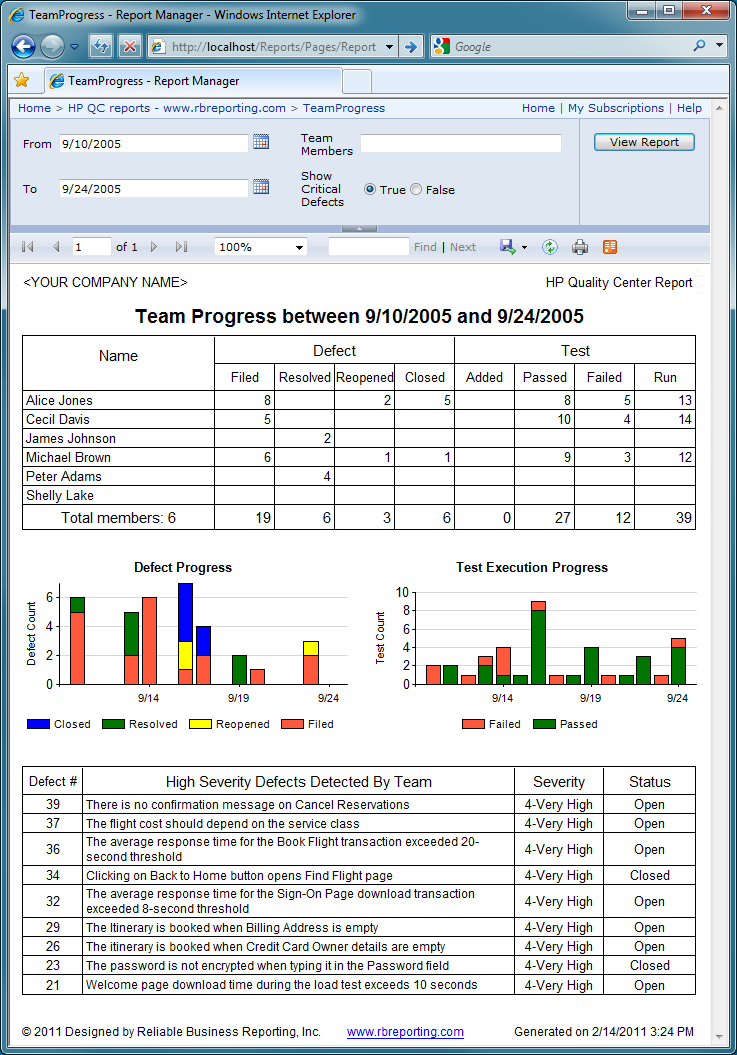 The report example generated for one person: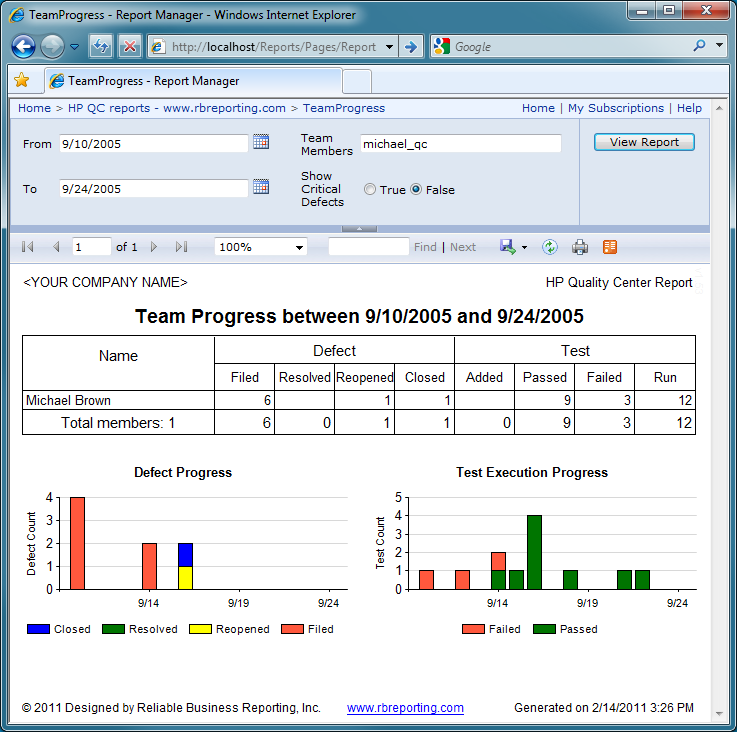 Next report (free)
Return back to see a list of HP Quality Center reports.