Bugzilla Reports
We offer graphical reports for the Bugzilla defect tracking tool. Our reports are thoroughly designed to identify common software development and quality assurance problems at early stages, and to facilitate proactive planning approach which enables you to improve your team productivity, track project progress and monitor test execution status. A report example with a screenshot and description provided
below
on this page.
Bugzilla Report Pack
You may
download
and use one Bugzilla report for free.
Contact us
to order custom Bugzilla reports, or to get more information.
Bugzilla Project Activity Report
The
Bugzilla Project Activity
report helps to track the bug flow for any product stored in Bugzilla systems. The report shows the current number of open and resolved bugs as well as the activity statistics and the bug burned down rate for any specified period of time.
This Bugzilla report is extremely useful for reviewing the list of incoming bugs on the daily basis; the list includes newly filed and reopened bugs as well as bugs moved from other versions of the selected product. By turning off the "Show Incoming" parameter the concise report is very useful for reviewing bug statistics on a weekly basis to summarize the latest project bug status.
By using the built-in Bugzilla Administrative UI it easy to create Groups to mimic the organizational structure of the whole department, so it easy to monitor bug numbers grouped by teams; see the example of the described grouping on the screenshot below.
The Bugzilla Project Activity report has 21 parameters; six are visible by default. These parameters allow adjusting the report for any Development or QA process.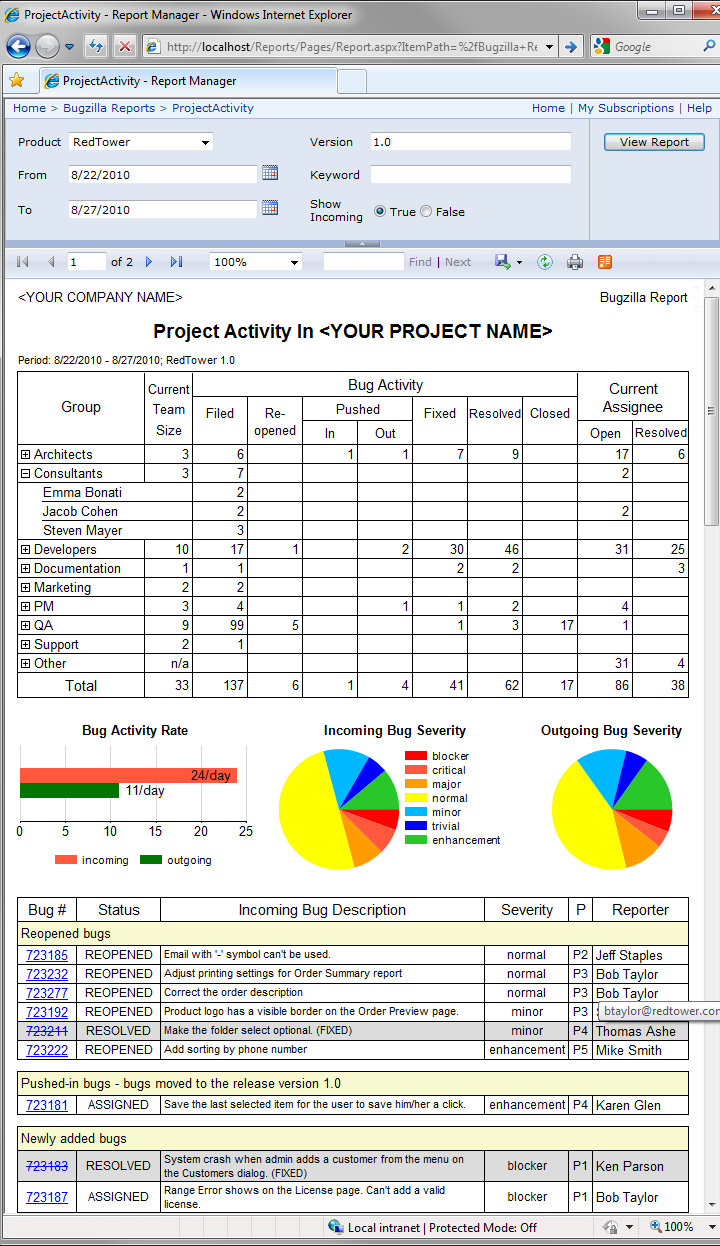 Reporting Requirements
Requirements for the Free Bugzilla Report deployment:
Bugzilla 3 or Bugzilla 4
Bugzilla database must be a MySQL database
Microsoft SQL Server Reporting Services (SSRS), SSRS 2008 R2 or later.
Note: MS SQL Server Express edition is not supported.
Download our Bugzilla report for free.