HP Quality Center Requirement Status Report

The Requirements Status report tracks the high level goals set by Product Management. It intersects with completeness-of-testing data to easily track the delivery of these goals in time for product release.
In our experience product requirements in software development are ever-present and ever an afterthought. Itís someoneís job to set up the use-cases, but unless your product is brand new, the requirement is hardly the only guidance for product development. Sometimes itís based on company direction, sometimes itís customer-driven, and other times you are the judge, jury, and executioner of good ideas all on your own. Whichever the case, if you deal with requirements, they may seem old-fashioned and monolithic Ė how could they ever reflect the flexibility that required to actually present a product out to customers? Things, after all, go wrong in big and small ways more often than not. Imagine this, common, everyday scenario:
The product is on schedule. The customer feedback is gathered, PMs delivered the requirements, the development team is working late into the night, and your QA team has designed the test cases and execution has begun. Everything is seemingly perfect and falling into a predictable rhythm Ė or is it? Are your requirements all covered by individual test cases? Are the executed test cases providing adequate coverage of the use cases your requirements called out? And what about bugs Ė are they limited to a given use-case, spread across the entire requirement set, or is it something strange? The questions are coming from PMs and executives, but do you have the answers?
You do, with the Requirements Status report! Whether you are a release manager concerned with adequate product coverage, QA manager preparing testing-status reports for executives, or an everyman juggling all the hats, you eventually have questions not just about requirements, but the visible impact on, and coverage of the rest of the product cycle by these often-neglected supermen of product design.
The Requirements Status report addresses these needs thusly: Each requirement is reflected, exactly as documented in Quality Center, viewable by folder, subfolder, individual test case, or any level of detail you choose. Right next to each requirement is a list of all test cases, as mapped by QA to said requirements, detailing the testing involved per use-case. You get all the data at-a-glance: Total test cases created per requirement, percentage-of-coverage for each requirement, execution data (Passed, Failed, and not-yet-executed tests) in multiple formats, and active, unresolved failures for each area. Tracking long-term and up-to-the-minute health of your product has not been this simple since requirements were first invented!
The Requirement Status report is included in our Free HP Quality Center Report pack.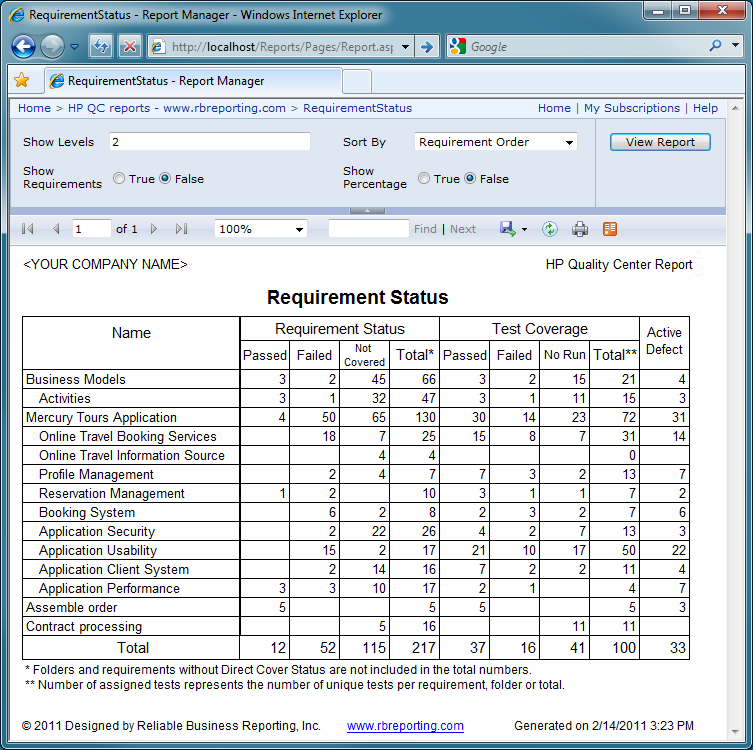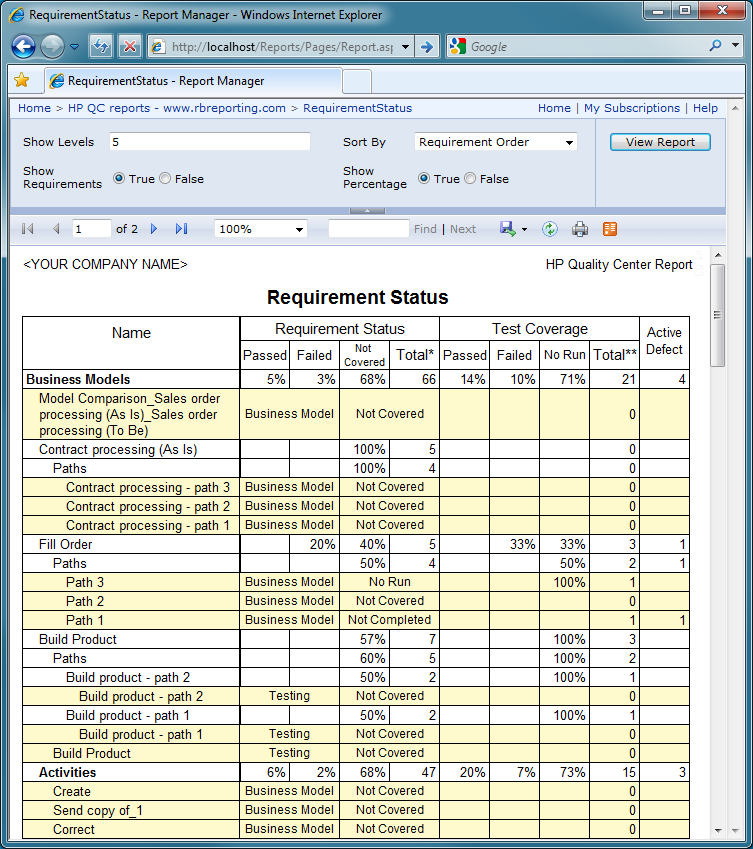 Next report
Return back to see a list of HP Quality Center reports.