Free Reports for HP ALM Quality Center

We offer a free download of our main reports for HP ALM Quality Center so that you could try its quality and usability. You may review examples of these reports with screenshots and descriptions here.
Requirements

Requirements for the Free Report Pack deployment:
HP ALM Quality Center 9, 10, 11, 12 or 12.5
HP ALM Quality Center backed by MS SQL Server or Oracle
Microsoft SQL Server Reporting Services (SSRS 2008, SSRS 2008 R2, SSRS 2012, SSRS 2014, SSRS 2016)*
* SSRS Express edition works only with HP ALM QC backed by MS SQL database.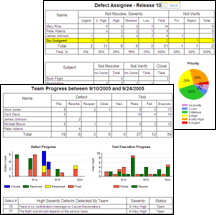 Click to view our
report examples
Report Pack Installation
Installation Summary: Create account in HP ALM/QC database. Deploy reports to SSRS. Configure reports to use the created database account. Use SSRS "Report Manager" application to view, print, and manage the reports. Review the
report installation
steps in details.
Download Reports
Please share your email address if you would like to receive our quarterly news about new report availability.
Thank you for using our reports. If you have any comments or feature requests you are welcome to share them with us using this address mailbox@rbreporting.com.